Golden Bay at the top of the south island of New Zealand
Safe Swimming Beaches, Forests to Explore, Hidden Gems to Discover, Amazing Sights to be Seen
From Wainui Bay at the start of the Abel Tasman National Park to Puponga at the base of Farewell Spit, Golden Bay has a fabulous stretch of beaches, to swim, relax and enjoy.
Flat-bottomed and largely free of hazards, you can find most of the South Island's best swimming beaches right here. Even in the peak of Summer, if you feel like a walk, it is no problem to find an almost deserted stretch of beach just for you and your friends.
If you want some action we have a variety of trails for your mountain bike to experience, bush walks, waterfalls and unusual rock formations to disocver on your travels around the bay.
Also an abundance of local artists to choose from in all sorts of mediums. From photography, painting, jewellers to carvers and blacksmiths.
Golden Bay is a truly dynamic and interesting place to visit and collect unforgettable memories of our slice of paradise and the people who live in it.
Pohara Beach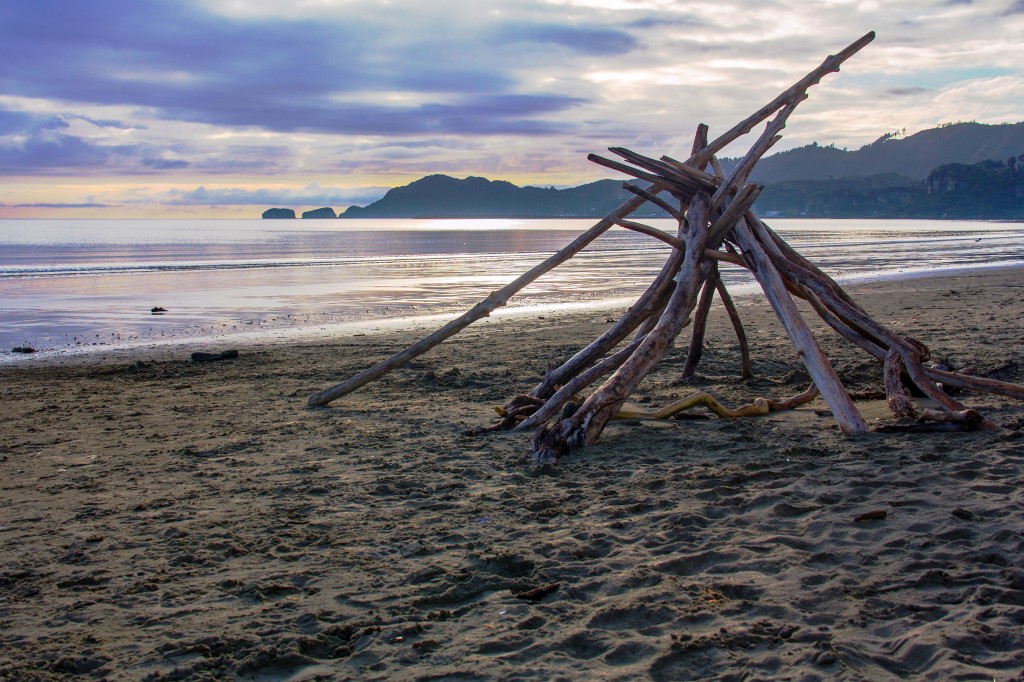 Pohara Beach Golden Bay
Golden Bay is blessed with many many kilometres of gorgeous safe-swimming sandy beaches.
However, of them all, Pohara is the only one with cafes, bars, restaurants, a golf course, art galleries, kayak hire, blo-kart hire - you name it.
Pohara is probably Golden Bay's tourism capital (though that could be hotly debated).
Ligar Bay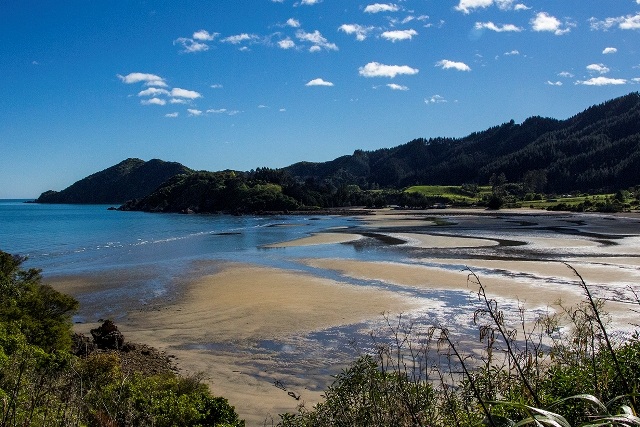 Ligar Bay, Golden Bay
A few minute's drive from Pohara is Ligar Bay, resplendent with golden sand, barbecue areas, shady trees and great safe swimming at high tide.
Tata Beach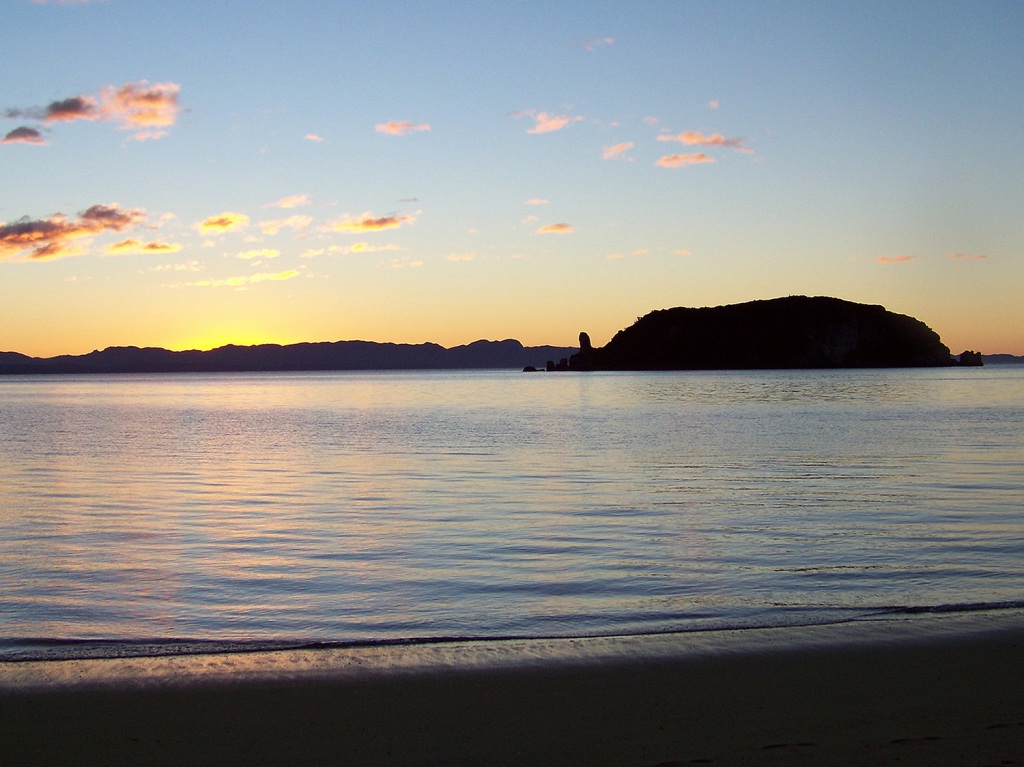 Tata Island, Golden Bay
About five minute's drive from Pohara, Tata's water is a little colder than Pohara's but you can swim here at low tide.
Tata also has a boat ramp.
Shags gather on Tata Beach before dawn and swallow sand before heading out to feed for the day.
The sand apparently serves as ballast when they dive, and may also help them digest their food.
Wainui Falls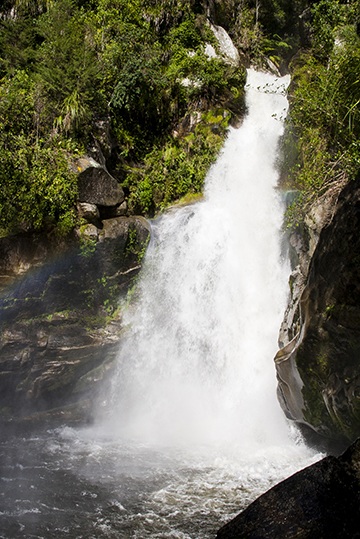 Wainui Falls, Golden Bay
A moderately easy 45 minute return walk through beautiful bush and following the scenic Wainui River leads you across a swing bridge to Wainui Falls.
Especially dramatic after a good rain, Wainui Falls is an excellent half-day outing, just a 20 minute drive from Pohara.
Taupo Point, Golden Bay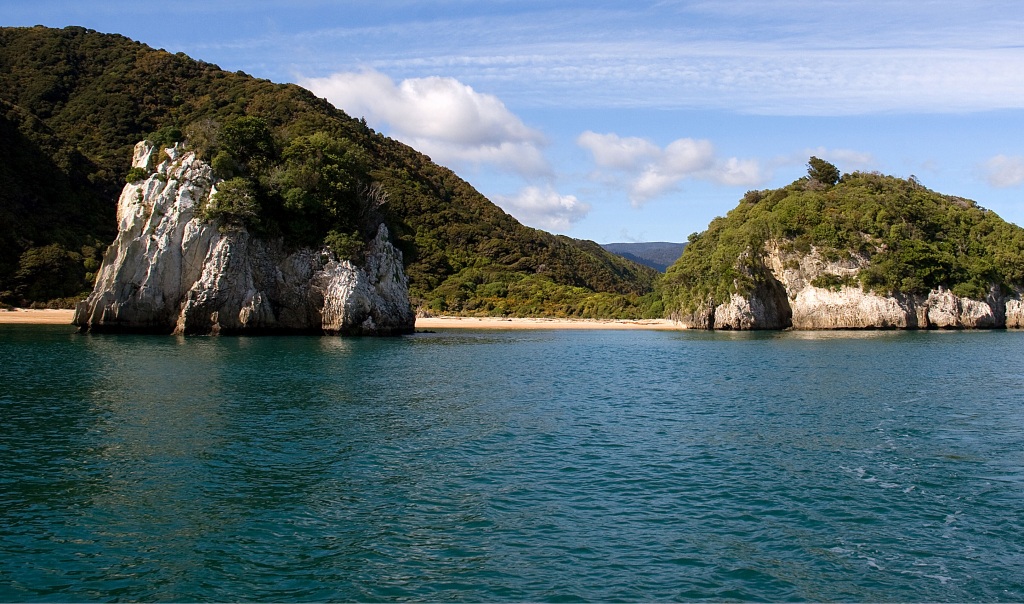 Taupo Point, Golden Bay
An excellent half-day walk from Wainui Bay into a less-frequented part of the Abel Tasman National Park. An absolutely stunning beach with James Bond movie-style rock formations and golden sand.
Best to walk there at low tide, stay the day and return at the next low tide if possible.There is a high tide track, and no shade to speak of, so take your own shade if possible.
Enjoy the sights of Taupo Point and many other coves and bays in the Abel Tasman National Park onboard a scenic trip with Leigh.
Milnthorpe Park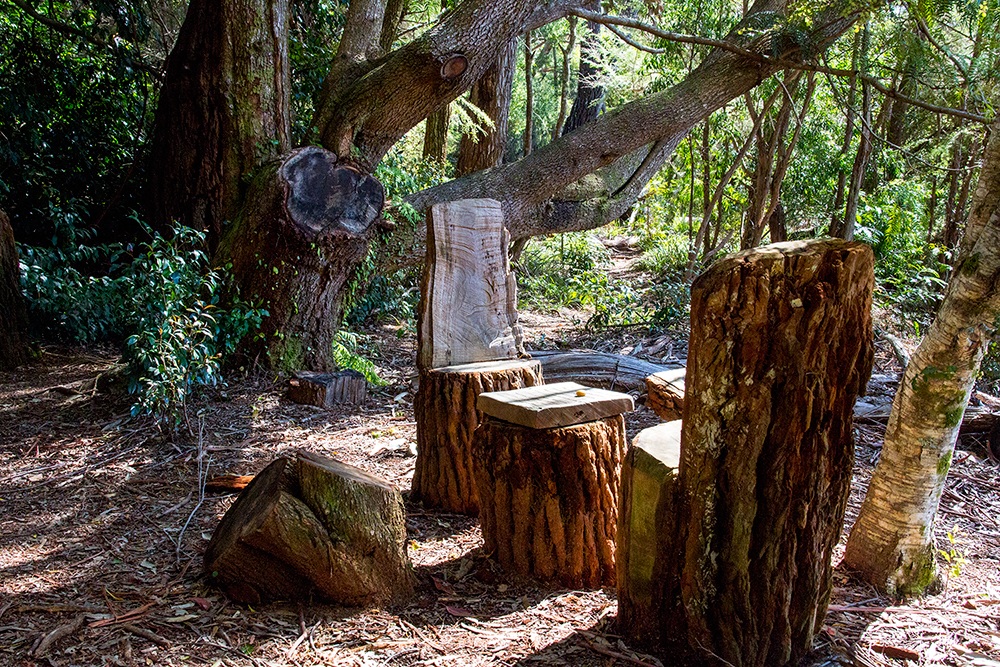 Milnthorpe Park
A great place to visit - especially if the weather is looking dodgy. Milnthorpe features a network of easy walking tracks through regenerating forest.
In amongst the trees you will discover numerous artworks left by local artists during annual week-long art happenings.
Once you've had enough of exploring the bush tracks, head out across the little stone causeway to beautiful Milnthorpe Beach.
The Grove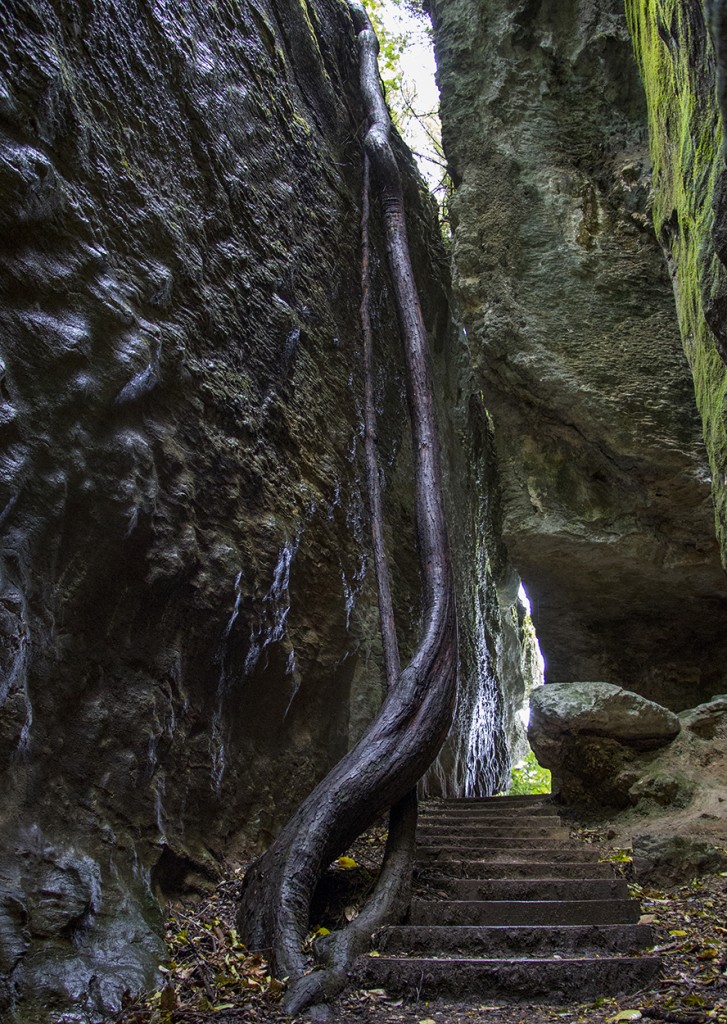 Grove Scenic Reserve
Just a short drive from Takaka you will find an amazing walk on the wild side at the Grove Scenic Reserve. A 20 minute walking track makes its way easily upwards to a viewing platform through a series of limestone blocks, some sculptured into weird and wonderful shapes by water.
The tentacle-like roots of northern rata trees that hang down many of the blocks create an eerie atmosphere. Nikau palms are also a feature of the reserve. From the viewing platform you can overlook the Clifton farmland out over to the estuary.
Kaihoka Lakes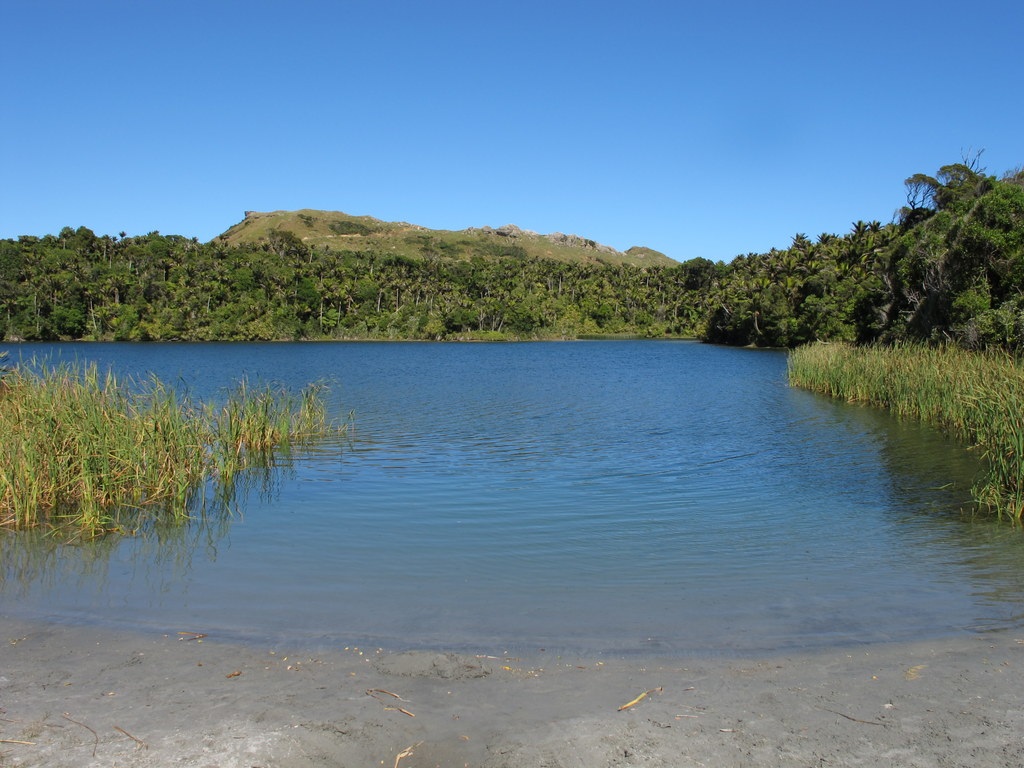 Kaihoka Lakes, great swimming
A beautiful spot on Golden Bay's west coast.
Kaihoka Lakes features a picnic area on the lakeshore and a 30 minute return walk through a nikau palm grove to a second lake.
An excellent place to come for a picnic.
Golden Bay's Wild West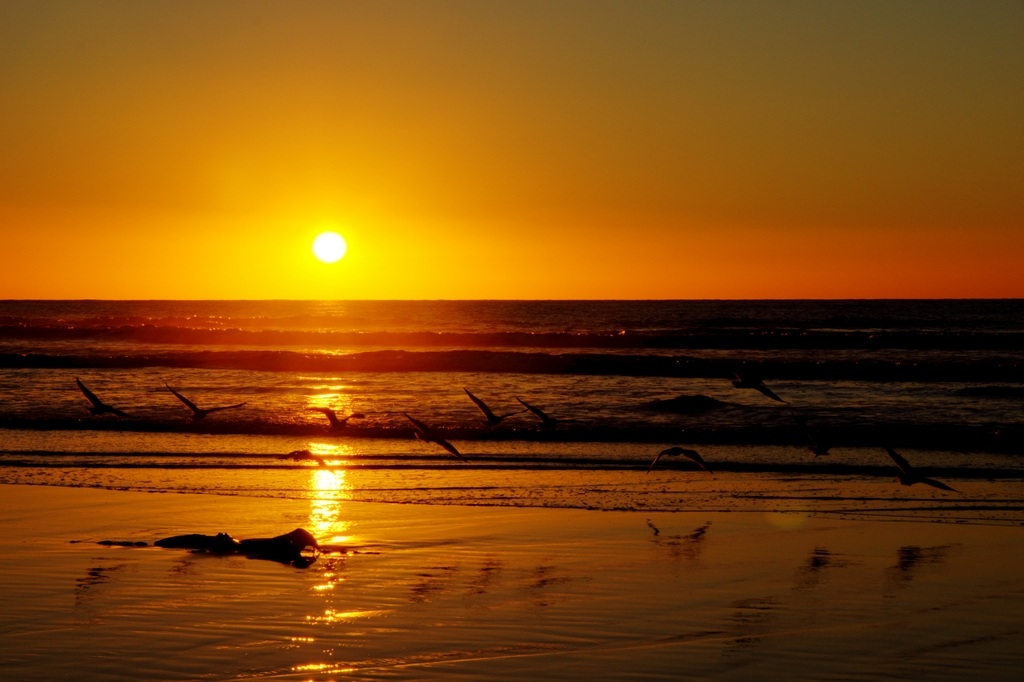 Golden Bay's west coast
Take a trip back in time to the west coast of Golden Bay.
This is Golden Bay's rustic rural hinterland and it is well worth an explore.
Head down to Kaihoka, Paturau and Anatori and you'll really be getting away from it all in majestic scenic style.
Wharariki Beach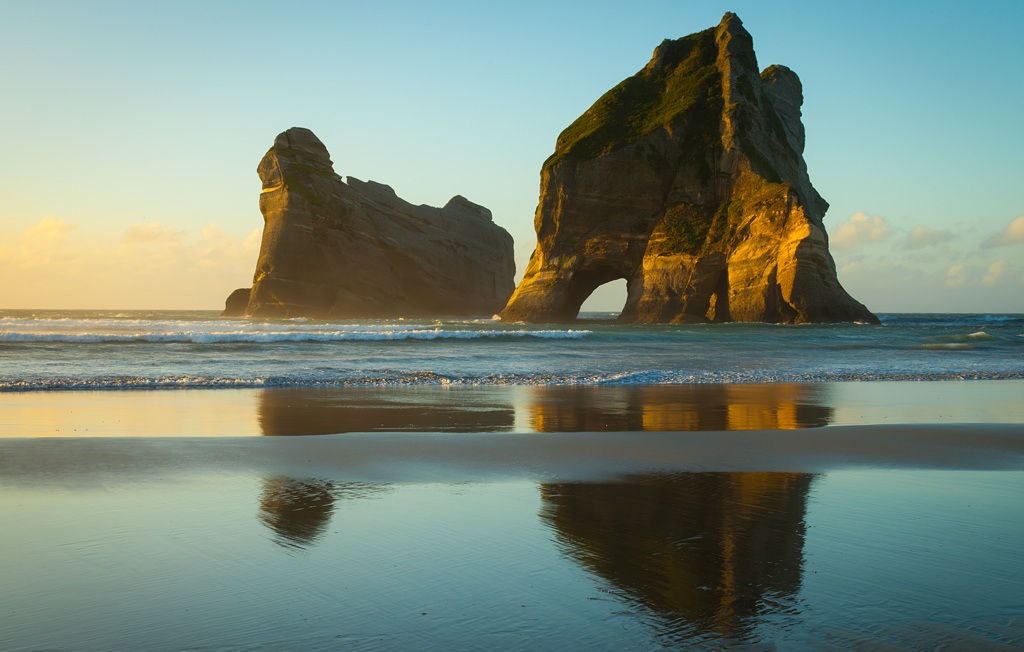 Wharariki Beach, Golden Bay
A fantastic day trip. Drive almost to the base of Farewell Spit and head west. A 25 minute walk following a well-marked track across farmland leads you to a spectacular west coast beach.
Explore to your heart's content and you will find huge sea caves, sand dunes and a rock pool that serves as a nursery for curious and playful seal pups.
Be prepared to stay all day and take sun protection, food and water. There is a cafe at the car park. Sunset at Wharariki is often stunning.
Cobb Valley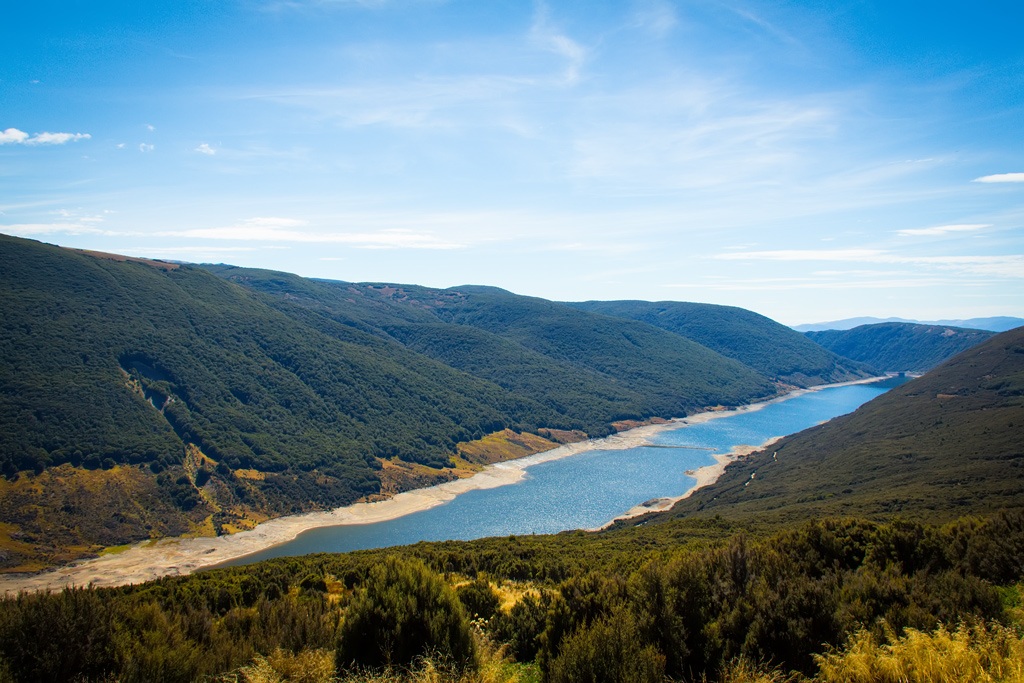 Cobb Valley and reservoir
A narrow winding road (unsuitable for large campervans) winds up into alpine country and the spectacular Cobb Reservoir.
Journey on to the top of the lake where the road ends and you will be in one of the most magical landscapes Golden Bay has to offer.
Numerous tracks lead from the Cobb Valley into the beautiful Kahurangi National Park.
Totaranui Beach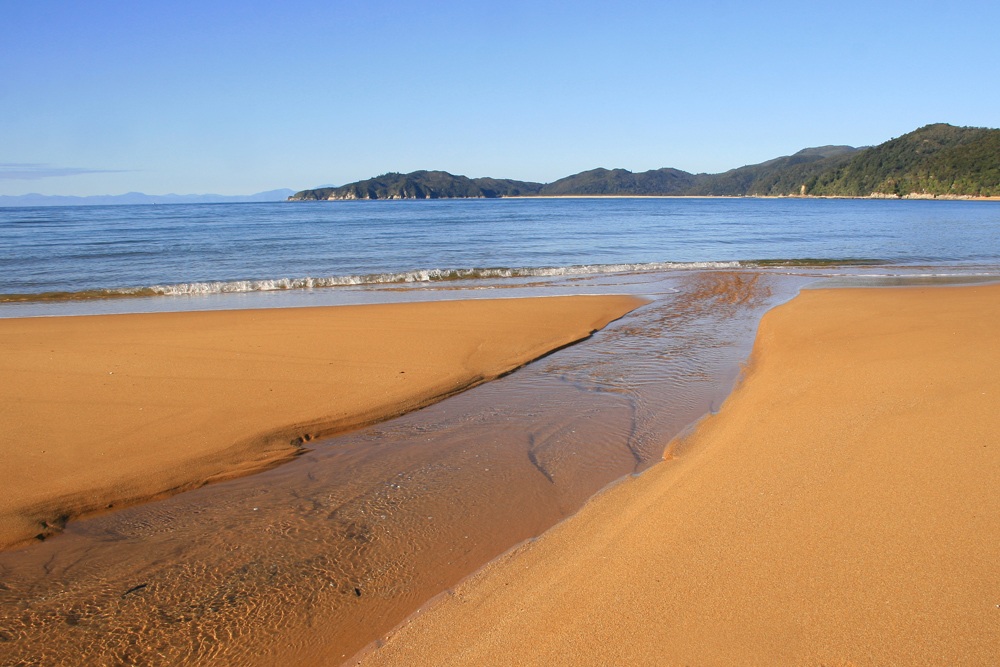 Totaranui Beach
Totaranui Beach is located in the Abel Tasman National Park, and is noted for the golden colour of its sand, more intense than other beaches in the Park. It is a great base for activities - relax on the beach, swim, kayak, fish or explore the nearby stands of native bush by walking one of the many tracks.